ENERGY FROM FUSION OF NUCLEI: WHEN?
The DEMO (Demonstration Power Plant) reactor prototype plans to feed energy into the electric network for the middle of this century.
It seems a very long time! However, we must not forget that we are talking about new discoveries: we have to deal with topics that are partly unknown for physics and technological solutions on the edge of current engineering possibilities.
History teaches us that research always reaches its goal, just look at the endless list of discoveries made in the last century and evaluate how much these have raised the wellness of our lives, to gain confidence in our future.
From the point of view of physics, the combustible fluid (Hydrogen isotopes in fully ionized state) moving along the magnetic surfaces nested inside the toroidal donut is a very complex system.
Physical science is not able to fully describe and make predictions about behavior, but despite this we know how to control it and we can induce configurations with good thermonuclear performance: we must learn to keep them for a sufficiently long time.
Useful technologies are, too, at the limits of the known: superconductors, for example, indispensable for the future reactor, are a technology of relatively recent discovery and, in addition, promise to further increase their performances in the near future.
In this too, the Europe is at the forefront of both research and industrial progress and is able to provide the construction of the superconducting magnets of international projects.
Now we need to face the challenge of high temperature superconductors, in which we are at the side of the USA laboratories for this indispensable new objective to reduce costs and improve technology.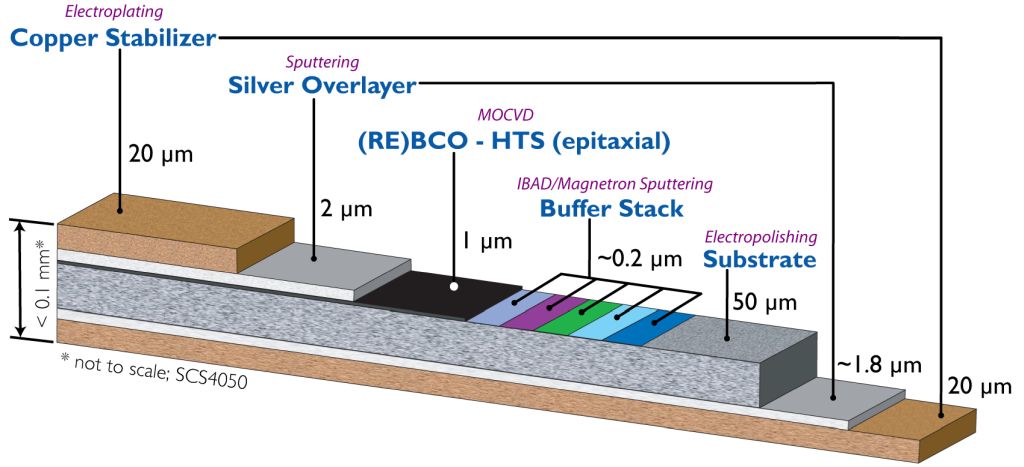 High Temperature Superconductor technology
---